Mini Pork Sandwiches
By
Paula Deen
JUMP TO RECIPE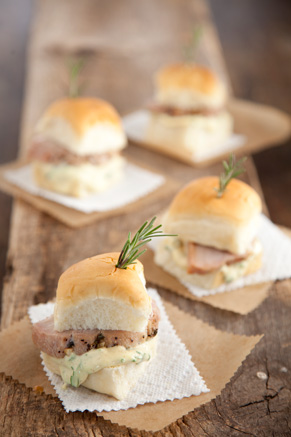 Difficulty: Easy
Prep time: 10 minutes
Cook time: 10 minutes
Servings: 10
Ingredients
4 cloves minced garlic
1 teaspoon finely chopped fresh rosemary
1 teaspoon extra virgin olive oil
2 teaspoons plus a dash for the spread Worcestershire sauce
1 (2 lb) pork tenderloin
1 teaspoon Paula Deen's Silly Salt
12 dinner rolls or small sandwich rolls
4 tablespoons mayonnaise
1 tablespoon brown mustard
2 teaspoons chopped fresh parsley
2 to 3 teaspoons chopped green onions
Directions
Preheat oven to 350 °F.
Mix garlic, rosemary, olive oil, Worcestershire sauce. Remove wrapper from the tenderloin and separate the 2 halves. Spoon half the mixture on the inside half of the tenderloin. Place the 2 pieces together again and tie with string. Rub the rest of the mixture to the top of meat. Add Silly Salt to all sides of the tied tenderloin. Place in oven for 1 hour; covered with foil for 30 minutes and then uncovered for the remaining 30 minutes.
Cut the pork tenderloin into slices. Slice dinner rolls. Place a slice of pork and a teaspoon of sandwich spread onto each dinner roll.
Sandwich Spread:
Add mayonnaise, brown mustard, parsley, green onions, a dash of Worcestershire and salt and pepper to a bowl and thoroughly combine.