Mini Lemon Pork Sandwiches
By
Paula Deen
JUMP TO RECIPE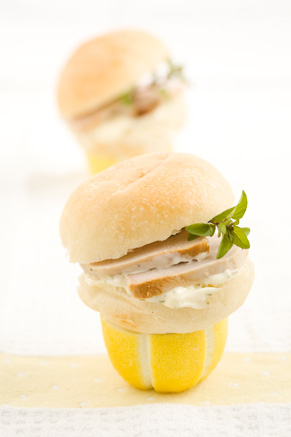 Difficulty: Easy
Prep time: 15 minutes
Cook time: 15 minutes
Servings: 15
Ingredients
3 (11 oz) packages frozen dinner rolls
2 1/2 lbs pork tenderloin
1/2 cup vegetable oil
1/4 cup plus 1 tablespoon fresh lemon juice
1 tablespoon sugar
1/2 teaspoon plus 1/8 teaspoon salt
1/8 teaspoon ground red pepper
3 to 3 cloves minced and divided garlic
1 cup mayonnaise
1/8 teaspoon chopped fresh tarragon
Directions
Thaw rolls according to package directions.
Rinse tenderloin and pat dry. Combine oil, 1/4 cup lemon juice, sugar, 1/2 teaspoon salt, red pepper and 1-2 cloves minced garlic in a large zip-top freezer bag or shallow dish: add tenderloins and seal or cover, and chill at least 4 hours. Remove pork from marinade, discarding marinade.
Place pork on rack of broiler pan that has been sprayed with nonstick cooking spray. Bake pork at 400 °F for 30 to 40 minutes, or until a thermometer registers 160 °F. Let stand 15 minutes.
Reduce oven heat to 350 °F. Place rolls in oven and bake for 15 to 20 minutes, or until golden.
Cut pork into 1/4-inch thick slices; serve with dinner rolls and Lemon Tarragon Mayonnaise.
Lemon Tarragon Mayonnaise:
Combine mayonnaise, 1 clove garlic, 1 tablespoon lemon juice, tarragon and 1/8 teaspoon salt.. Chill.