Messy Lasagna
By
Paula Deen
JUMP TO RECIPE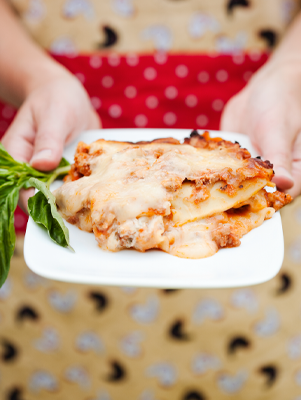 Difficulty: Medium
Prep time: 20 minutes
Cook time: 20 minutes
Servings: 20
Ingredients
1 tablespoon olive oil
2 (20 oz) packages casings removed hot turkey sausage
1 cup diced onion
2 cloves minced garlic
2 (25.5 oz) cans pasta sauce
1/4 cup red wine
2 teaspoons dried basil
1 teaspoon red pepper flakes
1 (15 oz) container ricotta cheese
1/2 teaspoon salt
2 tablespoons chopped fresh parsley
1 beaten egg
1 (16 oz) package lasagna noodles
4 cups shredded mozzarella cheese
1 1/2 cups shredded Parmesan cheese
Directions
Preheat oven to 375 °F.
Heat olive oil in large saucepan. Add onion, garlic and sausage, cooking over medium heat until sausage is no longer pink; drain.
Add sauce, red wine, basil and red pepper flakes to meat mixture. Bring to a boil, reduce heat and simmer 30 minutes.
In a large saucepan, boil lasagna noodles, leaving them slightly firm. Drain, set aside
In medium bowl, combine ricotta, salt, parsley and egg.
Spread a small amount of sauce into bottom of a 13 by 9 by 2-inch casserole dish. Place 3 lasagna noodles lengthwise on top of sauce, slightly overlapping and keeping flush to one end of the dish. Place one additional noodle width-wise and flush to opposite end to fully cover the bottom of the dish. Spread 1/3 of the remaining sauce over noodles, top with 1/3 ricotta mixture and 1/3 mozzarella and Parmesan cheese. Repeat layers. Cover with foil.
Bake for 30 minutes. Uncover and bake for 20 minutes more. Let rest 10 minutes before serving.