Maryan's Chocolate Pound Cake
By
Paula Deen
JUMP TO RECIPE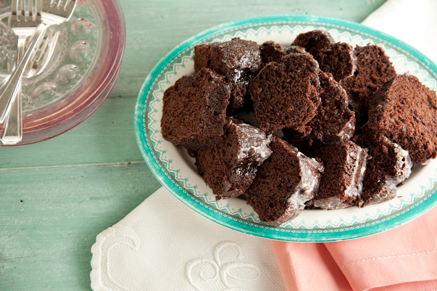 Difficulty: Easy
Ingredients
1/2 teaspoon baking powder
3 cups sugar
1/2 cup cocoa
2 1/2 cups (such as White Lily), pastry flour, or plain all-purpose flour southern soft-wheat flour
1/4 pound (1/2 cup) all-vegetable shortening
1/2 pound (2 sticks or 1 cup) softened unsalted butter
6 large eggs
1 teaspoon salt
1 cup evaporated milk
1 teaspoon preferably Mexican Vanilla pure vanilla extract
Directions
Lightly grease a tube cake pan and dust with flour (put in about 2 tablespoons of flour and gently shake and turn the pan until it the surface is lightly coated), then shake out the excess. Using a mixer on medium speed, cream the butter and shortening in a large mixing bowl. Add the sugar and beat until light and fluffy. Beat in the eggs one at a time, beating well between each addition until the batter is lemony and very fluffy.
Sift or whisk together the flour, baking powder, salt and cocoa. Alternating between them, gradually mix the flour and evaporated milk into the batter, beating well between each addition. When all the flour and milk are incorporated, beat in the vanilla extract. Spoon the batter into the tube pan or divide it equally between two loaf pans.
Run a knife through the batter in an "S" pattern to release any large air bubbles, then firmly tap each on the counter several times to force the bubbles to the surface. This will help insure an even texture. Position a rack in the center of the oven and put the pan on the rack. Set the oven temperature at 300 degrees F and turn it on. Bake the cake for 1 1/2 to 2 hours, until a toothpick inserted in the center comes out clean. Turn off the oven and leave the door slightly ajar. Allow the cake to cool in the oven.