Maple-Glazed Pork Chops
By
Paula Deen
JUMP TO RECIPE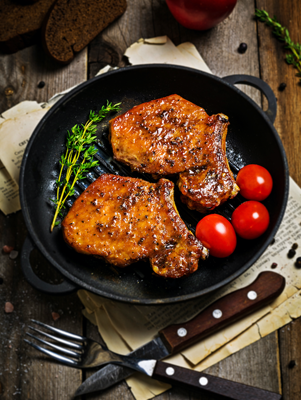 Difficulty: Easy
Prep time: 10 minutes
Cook time: 10 minutes
Servings: 10
Ingredients
4 teaspoons ancho chili powder
pecans, toasted and chopped for garnish, optional
1 teaspoon kosher salt
6 (10-oz) center cut bone-in pork chops, about 1-inch thick
1 tablespoon olive oil
3 tablespoons balsamic vinegar
1/2 cup butter maple syrup
1/2 cup chicken stock
Directions
In a small bowl, combine the chili powder and salt and sprinkle evenly over both sides of the pork chops.
In a large skillet, heat 1 tablespoon olive oil over medium-high heat. Add the pork chops and cook until browned, about 2 minutes per side. Reduce the heat to medium, and cook until desired doneness, about for 4 to 6 minutes.
In a small skillet, over medium-high heat, add the balsamic vinegar and cook until reduced by half. Stir in the maple syrup and chicken stock. Cook over medium heat until thick and syrupy, about 5 minutes.
Transfer to a serving platter and serve with the maple syrup. Garnish with toasted pecans, if desired.