Mama Macie's Oyster Stew
By
Damon Lee Fowler
JUMP TO RECIPE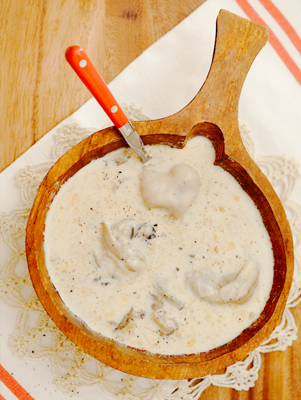 The most luxurious oyster stew is equal parts oysters and milk. Here, its 2 parts oysters to 3 parts milk, since Mama Macie and Aunt Margaret
Show more
The most luxurious oyster stew is equal parts oysters and milk. Here, its 2 parts oysters to 3 parts milk, since Mama Macie and Aunt Margaret saved the largest select oysters for frying. You can increase the oysters to 3 pints or make it a little thinner by adding another pint of milk to the mix. It multiplies easily; just keep the proportions the same. Serve with plenty of saltines or oyster crackers.
Difficulty: Easy
Prep time: 15 minutes
Cook time: 15 minutes
Servings: 6 to 8
Ingredients
2 pints shucked oysters
4 cups whole milk
1 pint cream or evaporated milk
4 to 6 tablespoons butter
salt
whole black pepper in a mill
Directions
Drain the oysters in a sieve set over a bowl, saving the liquor, and pick over them for any lingering bits of shell. Put the reserved strained liquor, milk, and cream in a large, heavy bottomed saucepan. Bring to a simmer, stirring occasionally, and add the butter. Season to taste with salt and pepper and let simmer 5 minutes.
Add the oysters and simmer until they're plump and firm and their gills curl, about 5 minutes, taking care not to overcook them. Taste and adjust the salt and pepper and serve at once, making sure that a goodly portion of oysters and butter makes it into each bowl.