Low Country Boil Skewers
By
Paula Deen
JUMP TO RECIPE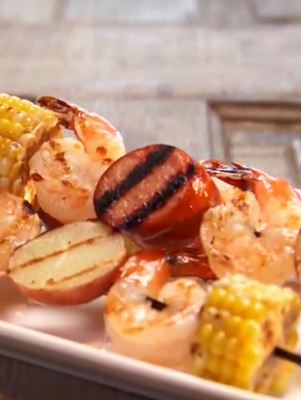 Difficulty: Easy
Prep time: 10 minutes
Cook time: 10 minutes
Servings: 10
Ingredients
6 baby red potatoes
kosher salt
2 tablespoons crab boil seasoning
1 ear shucked, cut into 1-inch rounds corn
4 tablespoons butter
3 cloves finely chopped garlic
2 teaspoons hot sauce
1 teaspoon cider vinegar
10 large peeled and deveined shrimp
8 oz fully cooked, sliced into 1/2-inch-thick rounds smoked pork sausage
wedges for serving lemon
Directions
Add the potatoes to a saucepan and cover with cold water. Add a big pinch of salt and 1 tablespoon of the seafood seasoning. Bring to a boil, reduce to a simmer and cook until the potatoes are tender, 10 to 12 minutes. Add the corn in the last 5 minutes. Drain and let cool.
Spray a grill pan with nonstick spray and heat to medium-high heat.
Melt the butter in a small skillet over medium heat. Once foaming, add the garlic and sauté until fragrant. Stir in the hot sauce and vinegar. Remove from the heat and reserve half for dressing the skewers after they are cooked and the other half to glaze the shrimp as they grill.
Divide and thread the shrimp, sausage, potatoes and shrimp onto long metal skewers. Set on a baking sheet. Brush the reserved glaze on the shrimp, and then grill, brushing and turning on occasion, 6 to 8 minutes total. Serve the skewers with lemon wedges and drizzle with the reserved sauce.