Lighter Vidalia Onion Pie
By
Deen Brothers
JUMP TO RECIPE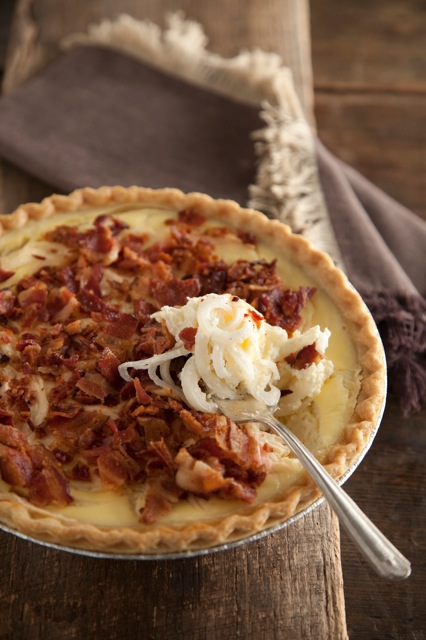 Difficulty: Easy
Ingredients
1 9-inch frozen deep-dish pie crust
2 teaspoons canola oil
2 about 1 pound thinly sliced medium vidalia onions
1/2 cup reduced-sodium chicken broth
1 teaspoon or 1/2 teaspoon dried thyme chopped fresh thyme
2 large eggs
3/4 1% cup low fat milk
1/2 cup reduced-fat shredded Cheddar cheese
1/4 teaspoon salt
3 slices cooked crisp and crumbled turkey bacon
Directions
Prepare the pie crust according to package directions for a ready-to-fill crust.
Meanwhile, heat the oil in a large nonstick skillet over medium heat. Add the onions, broth, and thyme; bring to a boil. Reduce the heat and simmer, partially covered, stirring occasionally, until the onions are almost tender, about 10 minutes. Uncover and cook, stirring occasionally, until the liquid is completely evaporated and the onions are very tender, 8 – 10 minutes longer. Spoon the onions into the prepared crust.
Whisk together the eggs, milk, cheese, and salt in a medium bowl. Pour the egg mixture over the onions in the crust. Top with the bacon. Bake until the top is slightly puffed and golden and a knife inserted into the center comes out clean, about 30 minutes. Let stand 10 minutes before slicing.