Lighter Shepherd's Pie
By
Deen Brothers
JUMP TO RECIPE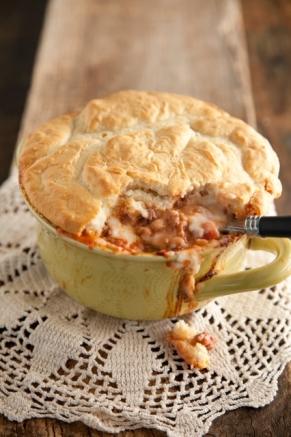 Difficulty: Easy
Prep time: 10 minutes
Cook time: 10 minutes
Servings: 10
Ingredients
2 large, about 1 1/2 pounds peeled and cut into 1-inch cubes sweet potatoes
2 chopped, plus 1 tablespoon adobo sauce canned chipotles en adobo
1 tablespoon softened butter
1/2 teaspoon plus 3/4 teaspoon salt
1 lb 5% or less ground lean beef
2 teaspoons canola oil
1 chopped onion
1 diced zucchini
1 diced yellow squash
3 cloves minced garlic
1 (15 1/2 oz) can diced tomatoes
3/4 cup reduced-sodium chicken broth
1 teaspoon ground cumin
1/2 cup shredded reduced fat cheddar cheese
Directions
To make the potato topping, place the potatoes in a large pot with enough cold water to cover; bring to a boil. Cook until the potatoes are fork-tender, about 15 minutes. Drain and return to the pot. Add the chipotles, adobo sauce, butter, and 1/2 teaspoon salt; mash with a potato masher until the potatoes are smooth and creamy. Set aside.
Preheat oven to 375 °F. Spray a 2-quart baking dish with nonstick spray.
Spray a large nonstick skillet with nonstick spray and set over medium-high heat. Add the beef, breaking the beef apart with a spoon, and cook until browned, about 5 minutes. Transfer to a bowl.
Add the oil to same skillet and heat over medium-high heat. Add the onion, zucchini, squash and garlic; cook, stirring, until vegetables are tender, about 8 minutes. Return the beef to skillet along with the tomatoes, broth, chipotles, cumin and remaining 3/4 teaspoon salt; bring to boil. Spoon the filling into prepared baking dish. Sprinkle the filling evenly with the cheese.
Spread the potato topping over the beef mixture. Bake until potato topping is lightly browned and the filling is bubbly along edges, 25 to €"30 minutes. Let stand 5 minutes before serving.