Lighter Saucy Catfish
By
Deen Brothers
JUMP TO RECIPE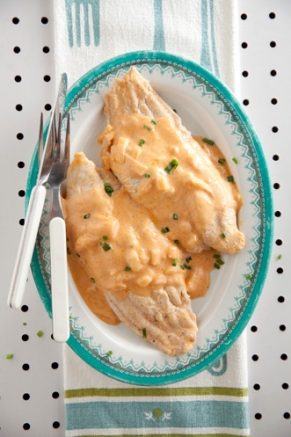 Difficulty: Easy
Prep time: 5 minutes
Cook time: 5 minutes
Servings: 5
Ingredients
1/4 cup ketchup
1/4 cup fat-free mayonnaise
1/4 cup reduced-sodium chicken broth
1/4 cup chopped scallions
1 tablespoon apple cider vinegar
1 tablespoon packed brown sugar
2 teaspoons Worcestershire sauce
2 teaspoons yellow mustard
3/4 teaspoon Paula Deen House Seasoning
1 teaspoon canola oil
4 (5 oz) catfish fillets
1 tablespoon chopped fresh parsley
1 cut into wedges, (optional) lemon
Directions
To make the sauce, whisk together the ketchup, mayonnaise, broth, scallions, vinegar, brown sugar, Worcestershire, mustard and 1/4 teaspoon House Seasoning in a medium bowl until blended.
Heat the oil in a large nonstick skillet over medium-high heat. Sprinkle the fish with the remaining 1/2 teaspoon of House Seasoning. Add the fillets and sauté 3 minutes on each side or until the fish flakes easily when tested with a fork. Transfer the fillets to a platter.
Add the sauce mixture to the pan; bring to a gentle simmer. Cook, stirring occasionally, until the sauce thickens slightly, about 2 minutes. Spoon the sauce over the fillets. Sprinkle with the parsley and garnish with the lemon wedges if using.