Lighter Lemon-Blueberry Jam
By
Unknown
JUMP TO RECIPE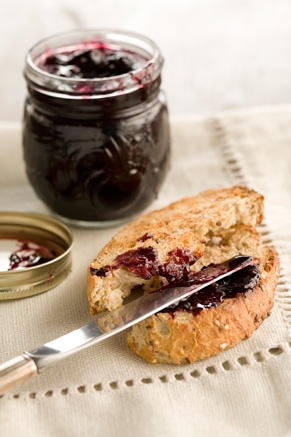 Difficulty: Easy
Prep time: 10 minutes
Cook time: 10 minutes
Servings: 10
Ingredients
4 cups blueberries
1 (1 3/4 oz) package powdered low-sugar fruit pectin
1 3/4 cups sugar
1 juiced and zested lemon
1 tablespoon grated and peeled fresh ginger
Directions
Prepare four (1/2-pint) jars with lids and bands according to manufacturer's directions.
Coarsely mash the blueberries with a vegetable masher in a large saucepan. Stir in the pectin and 1/4 cup sugar and bring to a boil. Stir in the remaining sugar, lemon zest, lemon juice and ginger until blended. Return the mixture to a rolling boil and cook, stirring constantly, for 1 minute. Remove from the heat; skim off any foam and cool to room temperature.
Spoon the jam into the prepared jars to within 1/2-inch from the tops. Wipe the jars and rims clean and cover tightly with lids. Let stand at room temperature until set, about 24 hours. Chill up to 3 weeks or freeze in plastic containers for up to 1 year.