Lighter Grilled Steak
By
Deen Brothers
JUMP TO RECIPE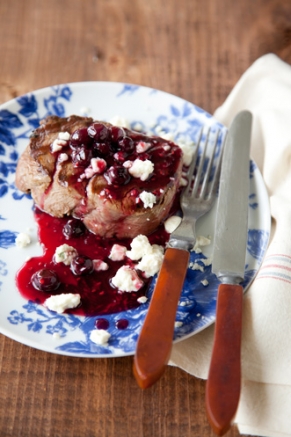 Difficulty: Easy
Prep time: 5 minutes
Cook time: 5 minutes
Servings: 5
Ingredients
1/2 cup hulled and chopped strawberries
1/2 cup blueberries
1/2 cup raspberries
1/2 cup blackberries
1/2 cup dry red wine
1/4 cup blueberry all-fruit spread
2 tablespoons balsamic vinegar
2 tablespoons packed light brown sugar
1 pinch salt
4 (4 oz) trimmed beef tenderloin fillets
1/2 teaspoon Paula Deen House Seasoning
1/4 cup blue cheese crumbles
Directions
Spray the grill rack with cooking spray. Preheat the gill to medium-high.
Combine the berries, wine, fruit spread, vinegar, brown sugar and salt in a medium saucepan. Bring to a boil over medium-high heat. Boil, stirring occasionally, until the mixture is reduced to a syrupy glaze, about 8 minutes (you should have 1 cup of glaze). Remove the saucepan from the heat; set aside.
Sprinkle the fillets with the House Seasoning. Place on the grill rack and grill, turning once, until an instant-read thermometer registers 135 °F for medium-rare, about 8 minutes. Transfer the beef to a platter. Drizzle with the sauce and sprinkle with the blue cheese.