Lighter Garlic Mashed Potatoes
By
Deen Brothers
JUMP TO RECIPE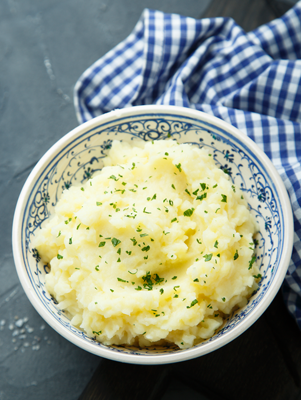 Difficulty: Easy
Prep time: 10 minutes
Cook time: 10 minutes
Servings: 10
Ingredients
2 lbs peeled and cubed Yukon Gold potatoes
1 cup milk
1 1/2 tablespoons about 3 cloves, chopped garlic
6 tablespoons unsalted butter
1 1/2 teaspoons salt
freshly ground, to taste black pepper
Directions
Bring a large pot of salted water to a boil over medium heat. Cook the potatoes until tender, about 25 minutes. Drain well.
Combine the milk and garlic in a medium saucepan and simmer for 5 minutes.
In a large serving bowl, add the potatoes and mash them while slowly adding the milk mixture, butter, salt and pepper, to taste, to the desired consistency. Taste and adjust the seasoning, if necessary.