Lighter Butter Pecan Ice Cream
By
Deen Brothers
JUMP TO RECIPE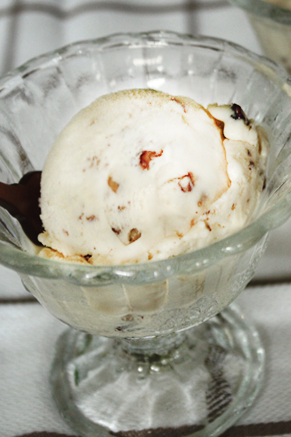 Difficulty: Easy
Ingredients
3/4 cup coarsely chopped coarsely chopped pecans
4 cups fat free half and half
2/3 cup packed light brown sugar
1 teaspoon vanilla extract
Directions
Place the pecans in medium dry skillet and heat over medium-low heat. Cook, stirring and shaking the pan occasionally, until the pecans are lightly toasted and fragrant, 2 to 3 minutes. Transfer the pecans to a small bowl and set aside.
Combine the half and half and brown sugar in a large saucepan and cook, over medium heat, stirring frequently, until the sugar is completely dissolved, 3 to 4 minutes. Remove from the heat; stir in the vanilla. Let cool completely, then refrigerate until well chilled about 30 minutes.
Pour the mixture into an ice-cream maker and freeze according to manufacturer's instructions, adding the pecans about 5 minutes before the ice cream is done. Transfer the ice cream to a to freezer container. Cover and freeze until firm, at least 3 hours or up to 8 hours.