Light French Onion Soup
By
Deen Brothers
JUMP TO RECIPE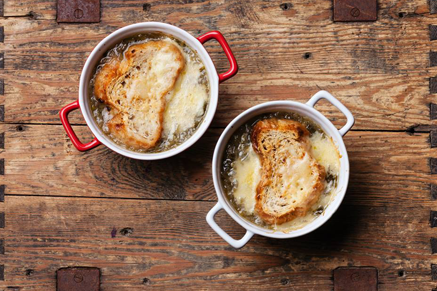 Difficulty: Easy
Prep time: 40 min
Cook time: 1 hr 15 min
Servings: 4 servings
Ingredients
8 onions
3 to 4 tablespoons olive oil
2 clove s garlic
1/2 bunch rainbow Swiss chard
1/2 teaspoon dried thyme
1/4 teaspoon salt
1/4 teaspoon freshly ground black pepper
1 bay leaf
2 tablespoons all-purpose flour
8 cups low-sodium vegetable broth
1/4 cup dry white wine
Four 3/4-inch-thick slices whole-wheat baguette
Nonstick cooking spray
3/4 cup grated Gruyere cheese
1/2 cup low-fat Swiss cheese
Directions
Preheat the broiler. Saute the onions in the oil over medium heat until tender and caramelized, 45 minutes. Add the garlic and Swiss chard and saute until wilted, 4 minutes, then add the thyme, salt, pepper and bay leaf. Sprinkle over the flour and cook for a few minutes more, browning the flour well. Add the broth and wine and bring to a boil. Reduce the heat, cover, and simmer gently for about 20 minutes.
Meanwhile, spray the baguette slices with nonstick cooking spray. Toast the slices on a griddle until golden brown. Mix together the cheeses.
Ladle the soup into 4 ovenproof bowls. Add the toasted bread and cover each with 1/4 cup of the cheese mixture. Place the bowls on a baking sheet lined with tin foil. Place under the broiler until the cheese has melted and is slightly brown, about 2 minutes.