Layered Mexican Dip
By
Nancy Blood
JUMP TO RECIPE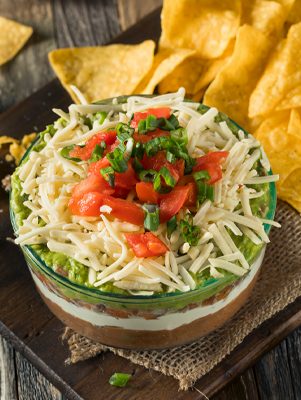 Featured in:
Favorite Recipes of The Lady and Her Friends
Difficulty: Easy
Prep time: 15 minutes
Servings: 8 to 10
Ingredients
3 ripe avocados, peeled and mashed
2 tablespoons fresh lemon juice
Pinch of garlic salt
Pinch of black pepper
Dash of Paula Deen Hot Sauce
1 cup sour cream
1 cup mayonnaise
1 (1.25-ounce) package taco seasoning
4 (9-ounce) cans Frito-Lay bean dip
1 (16-ounce) jar picante sauce or salsa, drained
1 cup chopped yellow onion or green onion
3 tomatoes, chopped
1 (6-ounce) can pitted black olives, drained
sliced jalapeños, to taste (optional)
8 ounces sharp cheddar cheese, grated
4 ounces Monterey Jack cheese, grated
Directions
In a bowl, stir together avocado, lemon juice, garlic salt, black pepper, and hot sauce; set aside.
In another bowl, mix sour cream, mayonnaise, and taco seasoning; set aside.
In a wide, shallow bowl, layer bean dip, avocado mixture, sour-cream mixture, picante sauce, onion, tomatoes, olives, and jalapeño peppers (if desired), and top with both cheeses. Serve with tortilla chips.