Jamie's Vegetable Soup with Grilled Cheese Sandwich Dunkers
By
Deen Brothers
JUMP TO RECIPE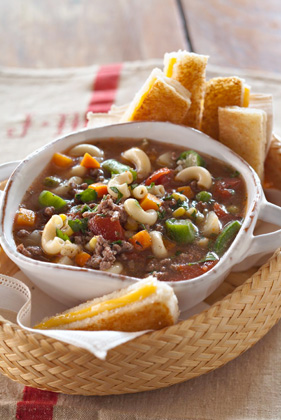 Featured in:
The Deen Bros. Y'all Come Eat
Difficulty: Easy
Prep time: 20 minutes
Cook time: 85 minutes
Servings: 10
Ingredients
3 tablespoons extra virgin olive oil
3 pounds ground beef
4 stalks celery
2 medium onions
1 28-ounce can chopped
12 ounces fresh tomatoes
2 beef bouillon cubes
1 1/2 teaspoons dried basil
1 1/2 teaspoons dried oregano
1 1/2 teaspoons garlic powder
1 1/2 teaspoons salt
1 teaspoon celery salt
1/2 teaspoon freshly ground black pepper
2 bay leaves
4 cups frozen mixed vegetables
2 cups finely chopped white potato, finely chopped
1 1/2 cups frozen corn kernels
1 cup frozen cut okra
1/2 cup uncooked elbow macaroni
1/4 cup fresh parsley, chopped
10 slices white bread
5 tablespoons unsalted butter
10 slices American cheese
Directions
For the soup, in a large pot, heat the oil over medium-high heat. Brown the meat, in batches, in the oil, breaking meat up with a fork as it cooks. Using a slotted spoon, transfer the meat to a paper towel-lined plate to drain. Pour off all but 2 tablespoons fat from the pot. Heat the remaining fat over medium-high heat and add the celery and onions; cook until softened, stirring occasionally.
Add 3 quarts water, the canned and fresh tomatoes, the bouillon cubes, basil, oregano, garlic powder, salt, celery salt, pepper, and bay leaves to pot. Cover and simmer for 30 minutes.
Return the meat to the pot along with the remaining soup ingredients. Simmer, uncovered, for 45 minutes. Discard the bay leaves. Taste and adjust the seasoning if desired.
For the dunkers, spread each quarter of bread with butter. Place a slice of cheese between two pieces of bread (buttered sides out), pinching the edges together to seal. Heat a large skillet over medium heat. Cook the sandwiches about 3 minutes per side or until golden brown, pressing gently with the back of a spatula. Serve the dunkers with the soup.