Homemade Vanilla Marshmallows
By
Paula Deen
JUMP TO RECIPE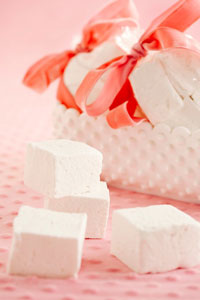 Difficulty: Medium
Prep time: 20 minutes
Cook time: 20 minutes
Servings: 20
Ingredients
2 1/2 tablespoons unflavored gelatin
1 cup cold and divided water
1 1/2 cups sugar
1 cup light corn syrup
1 1/2 tablespoons vanilla
1/4 teaspoon salt
1 cup for dusting powdered sugar
Directions
In the bowl of an electric mixer, combine 1/2 cup cold water and gelatin. Allow to sit for 30 minutes.
In a small heavy saucepan over low heat, combine granulated sugar, corn syrup, remaining 1/2 cup water and salt. Sir until the sugar dissolves. Use a wet pastry brush to wash down the sides as needed when sugar crystals form.
Raise the heat to high under the pan and clip a candy thermometer on the side. Cook the syrup WITHOUT stirring until the temperature reaches 244º (firm ball stage). Immediately remove the pan from the heat.
Using a whisk attachment, turn your standing mixer to low and slowly pour the hot syrup into the softened gelatin. Increase the speed to high and beat until the mixture has tripled in size. This should take about 15-18 minutes. The mixture will be very thick and white. Add the vanilla and beat to incorporate.
Generously dust an 8X12 inch Pyrex baking dish with powdered sugar. Pour mixture into pan. Dust the top of the mixture with powdered sugar and press flat into the pan with wet hands. Dust again with powdered sugar. Set out overnight uncovered. Turn out onto a cutting board and cut marshmallows with a dry hot knife into 1 1/2″ squares. Dust again with powdered sugar.
Paula's Gift Packaging Tips: These marshmallows are such a wonderful gift. Give them along with your favorite hot chocolate mix for an added surprise. I love how they look in clear plastic bags tied with a vintage velvet ribbon and given in old milk glass containers I find while out junkin'. The white marshmallows against the white milk glass is so beautiful.
This recipe is one of our Gifts from the Kitchen. Click here to see other Gifts from the Kitchen.