Holiday Cherry Cheesecake
By
Paula Deen
JUMP TO RECIPE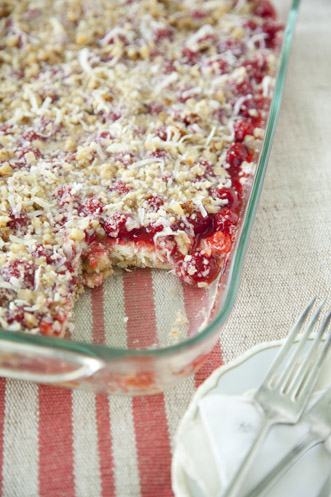 Difficulty: Medium
Prep time: 20 minutes
Cook time: 20 minutes
Servings: 20
Ingredients
1 cup chopped walnuts
1 1/4 cup flour
1/2 cup brown sugar
1/2 cup shortening
1/2 cup sweetened coconut flakes
2 (8 oz) packages softened cream cheese
2/3 cup sugar
2 eggs
2 teaspoon vanilla extract
2 (21 oz) cans cherry pie filling
Directions
Preheat oven to 350 °F.
For crust, combine flour and brown sugar. Cut in shortening until fine crumbs form and add 1/2 cup of nuts to crust, and 1/2 of the coconut into crust mixture. Mix well and remove 1/2 cup of the crust mixture and set aside with the remaining nuts and coconut. This will be used for the topping. Press the crust mixture into a pie pan. Bake for 10 minutes, or light golden brown.
Beat together cream cheese, sugar, eggs, vanilla and pour into baked crust. Smooth it over the crust. Bake for another 15 minutes. Pour cherry pie filling over the cheesecake, and smooth over. Sprinkle reserved crust mixture over cherry pie filling. Bake 15 minutes more and then let cool. Refrigerate over night. Cut and enjoy.