Herbed Monkey Bread
By
Paula Deen
JUMP TO RECIPE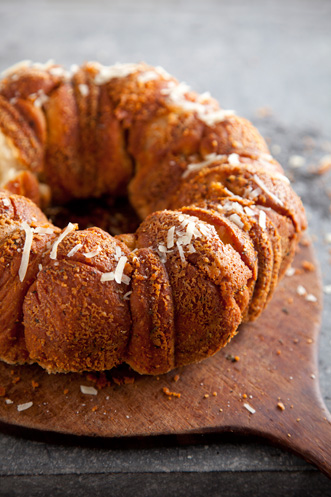 Difficulty: Easy
Prep time: 15 minutes
Cook time: 15 minutes
Servings: 15
Ingredients
1 stick melted, plus 1/4 cup melted butter, plus more for pan butter
1 cup grated, plus more for sprinkling Parmesan cheese
2 teaspoons dried Italian seasoning
2 packages biscuits
Directions
Preheat oven to 350 °F. Lightly butter a 12-cup bundt pan; set aside.
In a small bowl, combine cheese and Italian seasoning.
Roll each individual biscuit into a ball. Dip each piece in the 1 stick of melted butter, then coat with the cheese mixture. Place dough into prepared pan; overlapping will occur. Bake bread, 30 to 35 minutes. Cover with aluminum foil during the last 10 minutes of baking to prevent excess browning, if needed.
Let cool in pan, 10 minutes; invert bread onto a serving plate. Drizzle remaining 1/4 cup melted butter on top and sprinkle with grated Parmesan.