Hearty Beef and Noodle Soup
By
Paula Deen
JUMP TO RECIPE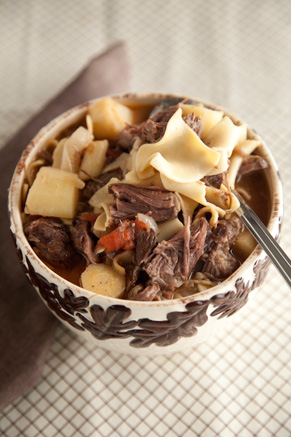 Difficulty: Easy
Ingredients
1 1/2 lbs beef short ribs
26 oz chicken stock
1 cup red table wine
1 cup water
1 14.5 oz can stewed tomatoes
1 bag (about 6) course chopped parsnips
1 large sliced onion
1 tablespoon olive oil
4 tablespoons butter
3 tablespoons flour
1 tablespoon garlic powder
1 12 ounce bag extra-wide egg noodles
Directions
Season short ribs liberally with salt, pepper and garlic. In a large soup pot with 1 tablespoon of olive oil brown short ribs on all side until no red is showing (about 15 minutes). Once browned remove and wrap in foil. Turn heat on high and add 1 cup red wine and deglaze the pan. While liquid is still boiling add butter and flour stirring constantly. Slowly add chicken stock and water. Return short ribs to pot. Cover and cook about 3 hours until meat pulls away from bone easily. Remove bones and save to make beef stock for a later use.
Preheat oven to 400 °F F.
In a 9 x 13 baking pan add parsnips, onions and 1 tablespoon olive oil and toss. Roast for 30 minutes stirring two to three times. While vegetables are roasting cook egg noodles as directed on package. Add vegetables and noodles to soup and simmer on low another 15 minutes. For a thinner soup add water or chicken stock as desired.