Heart-Healthy Chicken With Whole Wheat Pasta
By
Bobby Deen
JUMP TO RECIPE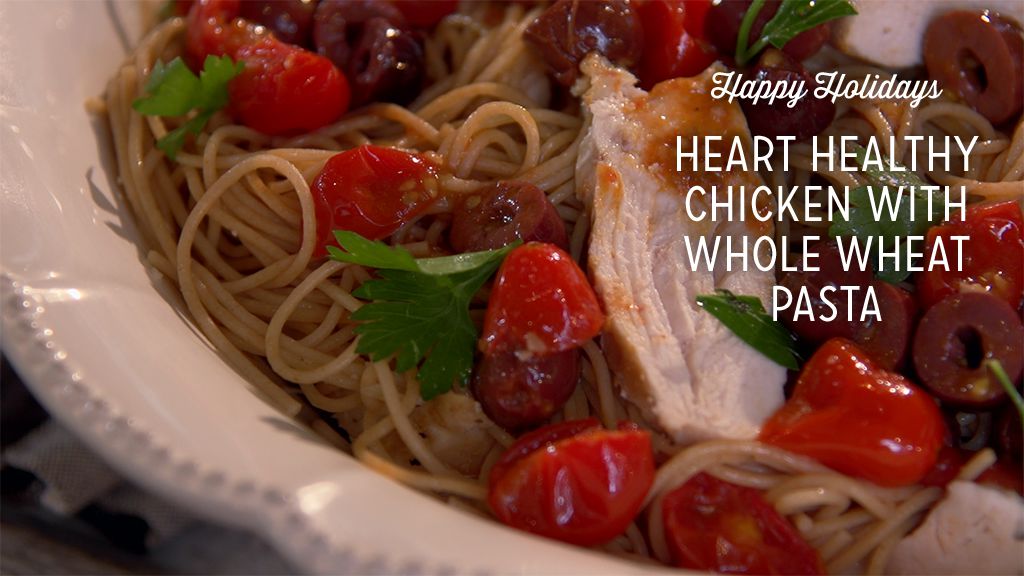 Difficulty: Easy
Prep time: 10 minutes
Cook time: 10 minutes
Servings: 10
Ingredients
1 lb whole wheat angel hair pasta
2 tablespoons olive oil
1 lb boneless skinless chicken breast
1 1/2 pints halved grape tomatoes
1/2 cup pitted and halved kalamata olives
1/2 clove thinly sliced garlic
1 tablespoon butter
1/2 bunch chopped fresh parsley
Directions
Bring large pot of salted water to a boil.
Preheat grill pan to medium high. Pound chicken to 1/4 –inch thin.
Drizzle chicken breast with olive oil, season with salt and pepper. Place on preheated grill, let cook 4 minutes on each side. Remove and slice.
Cook angel hair pasta according to package directions, roughly 4 minutes.
Heat olive oil in a large high sided skillet over medium high heat. Add tomatoes, olives, and garlic and season with salt and pepper. Cook on high heat for 3-4 minutes.
Reserve a few tablespoons starchy pasta water. Drain pasta. Reserve ¼ -1/2 cup starchy cooking liquid. Toss drained pasta with cooked tomatoes and Kalamata olives, butter and sliced chicken. Garnish with chopped parsley and drizzle with Extra-Virgin olive oil.