Ham Fried Rice With Pineapple and Fried Egg
By
Paula Deen
JUMP TO RECIPE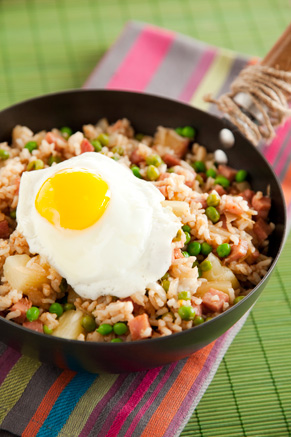 Difficulty: Easy
Prep time: 10 minutes
Cook time: 10 minutes
Servings: 10
Ingredients
3 tablespoons vegetable oil
1 small diced onion
2 tablespoons minced garlic
2 tablespoons minced ginger
1 cup thawed frozen peas
4 cup cooked white rice
1 teaspoon salt
2 cups leftover diced ham
1 (20 oz) can cut into bite sized pieces pineapple rings
1/4 cup plus more for garnish soy sauce
2 tablespoons apple cider vinegar
3 tablespoons hot sauce
4 eggs
4 sliced on bias, garnish scallions
1/4 cup garnish cilantro leaves
Directions
In a wok or large skillet, heat the vegetable oil.
Add onion garlic and ginger. Cook until golden.
Add rice and fry until coated with the oil and slightly golden.
Add salt, ham, pineapple, peas, soy sauce, vinegar and hot sauce.
Toss and cook 2-3 minutes.
In a separate skillet, crack the 4 eggs and fry at medium heat sunny side up, or to your liking.
Place fried rice onto a platter and place fried eggs on top.
Garnish with scallions, cilantro and a drizzle of soy sauce.