Grilled Vidalia Onion Steaks
By
Paula Deen
JUMP TO RECIPE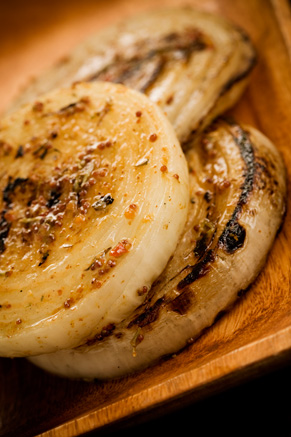 Difficulty: Easy
Prep time: 8 minutes
Cook time: 8 minutes
Servings: 8
Ingredients
1/4 cup olive oil
2 tablespoons melted butter
1/2 cup Paula Deen Honey Mustard Glaze
1 tablespoon or thyme summer savory
1 teaspoon Worcestershire sauce
2 large peeled, cut horizontally into 1/2-inch-thick slices Vidalia onions
Directions
Prepare grill to medium-high heat.
In a small mixing bowl, whisk oil and butter. In another small mixing bowl, whisk together Paula Deen Honey Mustard Glaze, savory and Worcestershire sauce.
Prepare onion slices by running 2 metal skewers or pre-soaked bamboo skewers parallel through each slice about 1 1/2″-2″ apart. If using bamboo, trim ends. Brush both sides of onion slices with oil mixture and place on grill. Cook until beginning to char, turning and brushing often with oil mixture (about 10-12 minutes). Brush top side of the onions with the honey mustard mixture and cook until mixture begins to bubble. Turn onions and brush other side with honey mustard mixture and grill until beginning to caramelize (about a minute). Remove from grill. Brush with remaining honey mustard mixture. Transfer to a plate and carefully remove skewers.