Grilled Pork Chops
By
Neely Family
JUMP TO RECIPE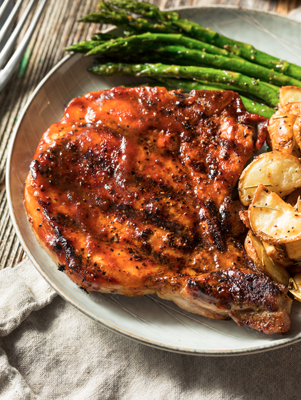 Difficulty: Easy
Prep time: 10 minutes
Cook time: 10 minutes
Servings: 10
Ingredients
4 (about 1/2-inch thick) pork chops
1 cup plus 1 1/2 teaspoons for sauce paprika
3 1/2 tablespoons sugar
1/2 teaspoon plus 1 1/2 teaspoons for sauce onion powder
2 cups ketchup
water
6 tablespoons brown sugar
5 tablespoons white sugar
1 1/2 teaspoons freshly ground black pepper
1 1/2 teaspoons dry mustard powder
1/2 juiced lemon
1 teaspoon Worcestershire sauce
1/2 cup apple cider vinegar
1 teaspoon light corn syrup
Directions
Apply Neely's Seasoning to each pork chop. Place pork chops in a large freezer safe plastic bag. Pour 2 cups of Neely's BBQ sauce into bag. Marinate in refrigerator for 8 hours.
Place pork chops on grill and cook until internal temperature is 160 °F. Reapply BBQ sauce to pork chops prior to serving.
Neely's Seasoning:
Mix 1 cup paprika, 3 1/2 tablespoons sugar and 1/2 teaspoon onion powder together in a small bowl.
Neely's BBQ Sauce:
Combine ketchup, water, brown sugar, white sugar, pepper, 1 1/2 teaspoons onion powder, dry mustard, 1 1/2 teaspoons paprika, lemon, Worcestershire, vinegar and corn syrup in a large saucepan or Dutch oven.
Over high heat, bring ingredients to a boil, stirring frequently to prevent sticking. Once sauce comes to a boil, reduce temperature to low and simmer, uncovered, for at least 2 hours.