Grilled Peach Salad
By
Paula Deen
JUMP TO RECIPE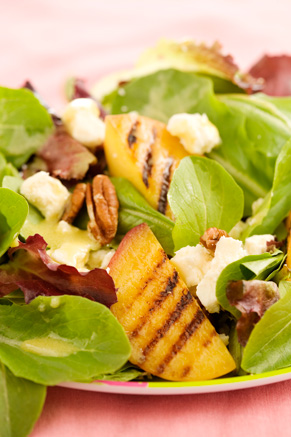 Difficulty: Easy
Prep time: 10 minutes
Cook time: 10 minutes
Servings: 10
Ingredients
3 tablespoons rice wine vinegar
1 tablespoon dijon mustard
1/3 cup plus 1 tablespoon olive oil
1 1/2 teaspoons divided salt
3 pits removed and cut into wedges peaches
5 cups mesclun greens mix
1/2 cup chopped pecans
1/3 cup crumbled feta cheese
Directions
Combine the rice wine vinegar and Dijon in a small bowl. Slowly pour 1/3 cup olive oil into the bowl, whisking constantly to emulsify. Season with 1/2 teaspoon salt.
Salad:
Place the peaches in a bowl and drizzle with 1 tablespoon olive oil. Sprinkle with 1 teaspoon salt and toss well. Place on the grill and cook for 1 to 2 minutes on each side.
Place the mesclun mix in a large bowl. Add chopped pecans, feta and cooked peaches. Drizzle salad with dressing and toss to coat.