Grilled Chicken Panzanella Salad
By
Jamie Deen
JUMP TO RECIPE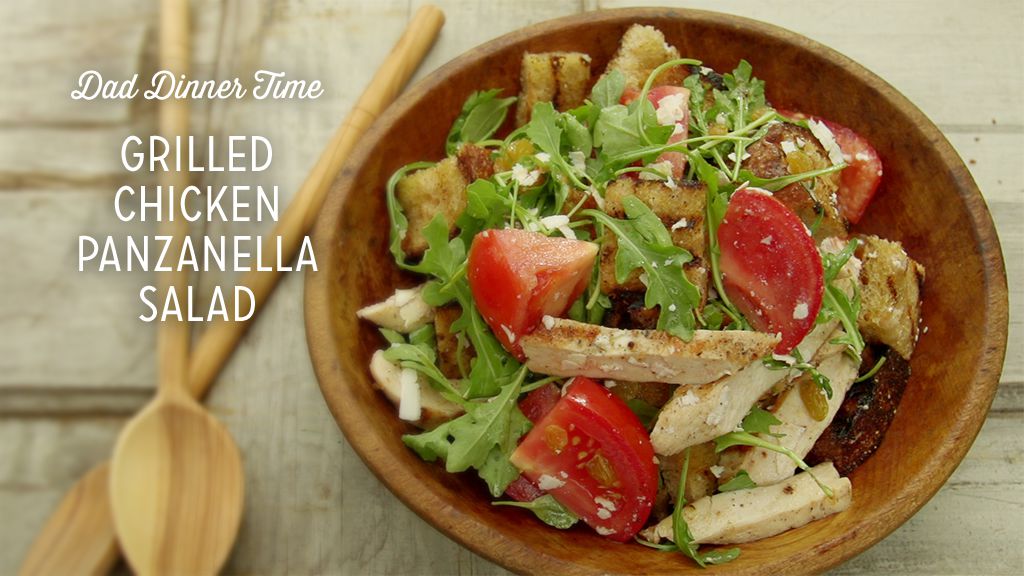 Difficulty: Easy
Prep time: 5 minutes
Cook time: 5 minutes
Servings: 5
Ingredients
4 to 6 chicken breast cutlets
4 thick slices grilled and cut into 2-inch chunks peasant bread
1 lb heirloom tomatoes
1 thinly sliced, fronds reserved fennel bulb
1 cup plumped in 1/2 cup warm water golden raisins
2 tablespoons sherry vinegar
1/4 cup extra virgin olive oil
2 cups baby arugula
for garnish ricotta salata
Directions
Preheat grill pan. Season chicken with salt and pepper, then place on grill and cover with aluminum foil (sprayed with non-stick spray). Place a heavy-bottomed pot on top of foil to press down chicken and speed up the cooking process.
Allow to cook for 1-2 minutes, then flip and cover again. Flip once more and cover. Finally, flip a 3rd time and leave uncovered to finish cooking.
Meanwhile, onto the preheated grill, place the slices of bread drizzled with extra-virgin olive oil and seasoned with salt and pepper. Grill 3 minutes on each side, or until slightly charred. Cut into 2-inch chunks when finished.
In a small bowl, add golden raisins and warm water, let soak for 5 minutes, or until plumped.
In a large bowl with arugula, add thinly sliced fennel (reserve fronds for garnish). Chop tomatoes into rough chunks, add salt, then add to bowl. Add raisins and bread chunks. Add sherry vinegar and toss to coat. Shave ricotta salata over top.
Remove chicken from grill pan and slice, then place on top of salad.