Green Tomato Pie
By
Paula Deen
JUMP TO RECIPE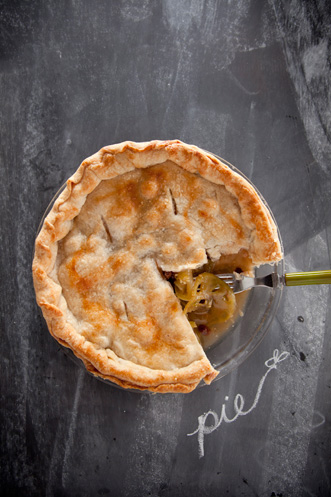 Difficulty: Medium
Prep time: 20 minutes
Cook time: 20 minutes
Servings: 20
Ingredients
2 cups all purpose flour
1/4 teaspoon salt
1 teaspoon baking powder
3/4 cup butter-flavored shortening
1/2 cup cold water
1 1/4 cups plus 1 teaspoon for crust and more for sprinkling sugar
2 tablespoons tapioca flour
1 teaspoon grated orange zest
1/2 teaspoon ground cinnamon
1/4 teaspoon freshly grated nutmeg
1/4 cup raisins
5 or enough to fill pie crust, thinly sliced green tomatoes
1 slightly beaten egg white
Directions
For the crust:
Sift together flour, salt, 1 teaspoon sugar and baking powder into a bowl. Cut shortening into flour mixture with a pastry cutter or fork until mixture resembles cornmeal. Stir in 1/4 cup of the cold water, then add remaining 1/4 cup and mix until combined. Cover dough and allow it to rest in refrigerator for 30 minutes.
Divide dough in half. Place on lightly floured board and pat out. Using a rolling pin, roll out 1 piece of dough to the size of a 9-inch pie pan. Put crust in pan and trim off excess dough around the edge. Roll out second ball of dough for pie crust top.
For the filling:
Preheat oven to 425 °F.
Mix 1 1/4 cups sugar, tapioca, zest, cinnamon, nutmeg and raisins in a large bowl. Lay tomato slices in pie crust. Sprinkle mixture over tomatoes. (Overlapping will occur but tomatoes will shrink in size when baked.) Gently lay top pie crust over filling, tucking in the extra crust around the edges. Pinch dough with fingers or butter knife to seal edges. Using a knife, make 4 to 6 slits in top of crust to allow steam to escape. Brush top with egg white and sprinkle with a little sugar to give your crust a shine.
Place pie in the preheated oven and bake for 25 minutes. Reduce temperature to 350 °F. and continue to bake for 20 more minutes. Cool on wire rack.
*Cook's Note: If your pie looks ready to "spew out," open oven door for about 2 minutes.