Glen-Ella Springs Crab Cakes and Remoulade
By
Bill Wilder, Executive Chef from Glen-Ella Springs, Clarksville, GA
JUMP TO RECIPE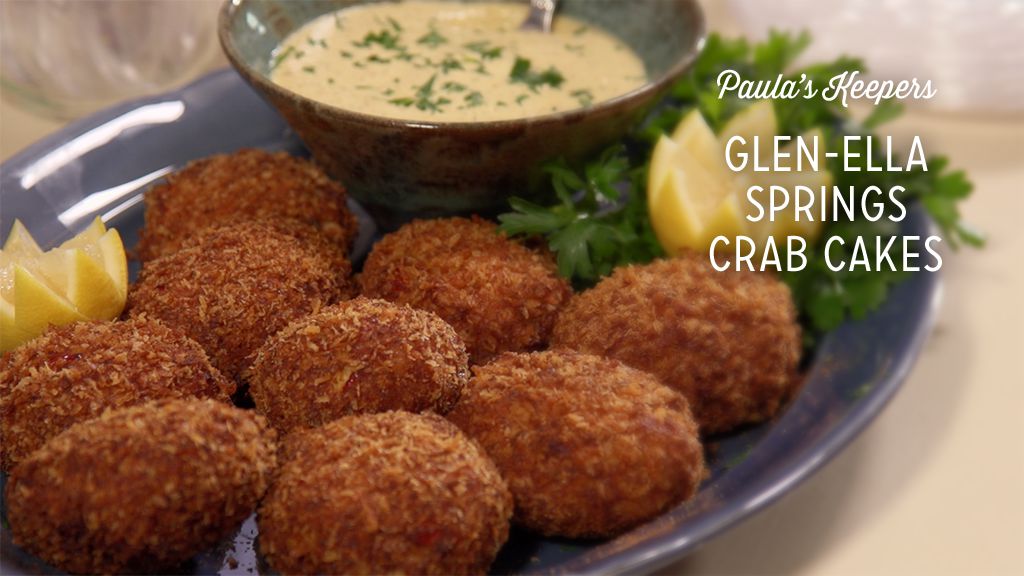 Difficulty: Easy
Prep time: 15 minutes
Cook time: 15 minutes
Servings: 15
Ingredients
1 lb lump crab meat
2 eggs
1 cup (Japanese bread crumbs) plus extra for exterior breading panko
1/2 cup heavy cream
1 tablespoon butter
1/2 cup brunoised (evenly diced to 1/8 in) onions
1/4 cup brunoised (evenly diced to 1/8 in) red pepper
1 tablespoon (plus two teaspoons, divided) Cajun seasoning
1 tablespoon lemon juice
2 tablespoons canola oil
1 tablespoon finely diced Vidalia onion
1 tablespoon chopped green onion
1 tablespoon chopped celery
2 teaspoons chopped garlic
2 teaspoons prepared horseradish
1 tablespoon grainy Dijon mustard
1 tablespoon chopped parsley
1/4 teaspoon plus more to taste for crab cakes salt
1/4 teaspoon freshly ground, plus more to taste for crab cakes black pepper
1 tablespoon sour cream
3 tablespoons mayonnaise
4 (or 5) capers
1/8 teaspoon cayenne pepper
Directions
Preheat fryer to 350 °F. Preheat the oven to 385 °F.
In a large bowl, leave 1/3 pound of the crab meat intact, slightly break up 1/3 pound and thoroughly break up 1/3 pound.
In a sauté pan over medium-high heat, add butter, then add the onions and red peppers. Sauté until softened. Season with 1 tablespoon Cajun seasoning. Remove from heat and let cool.
In another large bowl add lump crab meat, eggs, 1 cup panko, heavy cream and cooled onion and red pepper mixture. Mix well.
Place extra panko breadcrumbs in a shallow baking dish.
Form crab mixture into 2 oz. cakes, and coat with the extra panko breadcrumbs.
Deep fry until golden brown then put in 385 °F oven for 10 minutes to brown, if desired.
For Remoulade, combine lemon juice, canola oil, Vidalia onion, green onion, celery, garlic, horseradish, Dijon, parsley, 1/4 teaspoon salt, cayenne, 1/4 teaspoon pepper, sour cream, mayonnaise, 2 teaspoons Cajun seasoning and capers in blender and process. Drizzle over crab cakes.