Glazed Honey Bars
By
Paula Deen
JUMP TO RECIPE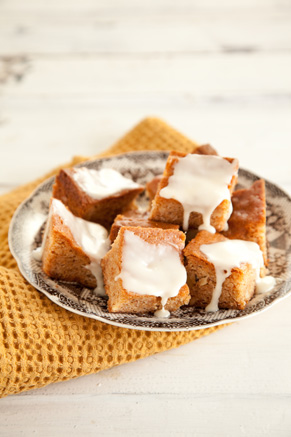 Difficulty: Easy
Prep time: 10 minutes
Cook time: 10 minutes
Servings: 10
Ingredients
1/2 cup chopped walnuts
1 cup self rising flour
1 teaspoon ground cinnamon
1 egg
1/2 cup granulated sugar
1/8 cup honey
2/3 cup vegetable oil
1 cup confectioner's sugar
1 tablespoon mayonnaise
1 tablespoon milk
1 teaspoon vanilla extract
Directions
Preheat the oven to 350 °F. Lightly grease 8x8x2-inch pan.
In a mixing bowl, beat the oil, honey, granulated sugar and egg. Stir the cinnamon into the flour. Stir this into the sugar mixture and mix well. Stir in the nuts. Spread the batter in the prepared pan and bake for 25-30 minutes.
Remove from the oven and let stand a few moments while you make a glaze. In a bowl, stir together the confectioners' sugar, mayonnaise, milk and vanilla. Pour the glaze over the cake and spread it with a metal spatula. Let cool, then cut into bars.