Garlic Pickled Carrots
By
Paula Deen
JUMP TO RECIPE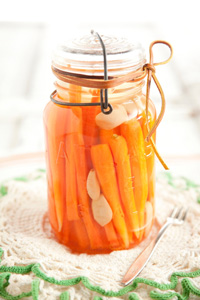 Difficulty: Medium
Prep time: 15 minutes
Cook time: 15 minutes
Servings: 15
Ingredients
1 lb peeled and cut into 5" long sticks carrots
10 whole cloves garlic
3/4 cup sugar
1/4 cup light brown sugar
1 cup water
1 1/4 cup cider vinegar
1 tablespoon kosher salt
1/2 tablespoon whole mustard seeds
1/2 tablespoon mixed whole peppercorns
Directions
Blanch carrot sticks and garlic cloves in boiling water for 1-2 minutes. Let cool while preparing jars.
Sterilize jar and lid directly before using for 10 minutes in simmering water or in the dishwasher. Remove just before ready to fill.
Fill the jar with the blanched carrot sticks and garlic cloves. In a medium saucepan, stir together the sugar, brown sugar, water, vinegar and salt. Bring to a boil and add the mustard seeds and peppercorns. Simmer for 5 minutes. Strain the mixture through a fine strainer. While vinegar mixture is still hot, ladle into the carrot and garlic filled jars, filling to within 1/2 inch of the top. Wipe rim with a clean damp cloth and seal jar with lids and rings. Process in a boiling water bath (making sure water level is 1 inch over the top of the jars) for 10 minutes. Remove from water bath and allow to cool on the counter.
Serving Suggestions: Perfect on an antipasto platter or make an antipasto salad by tossing together the pickled carrots with marinated artichoke quarters, cherry tomatoes, black olives, fresh mozzarella, chopped Romaine and a simple Italian dressing.