Bobby's Pickled Shrimp in a Jar
By
Jamie Deen
JUMP TO RECIPE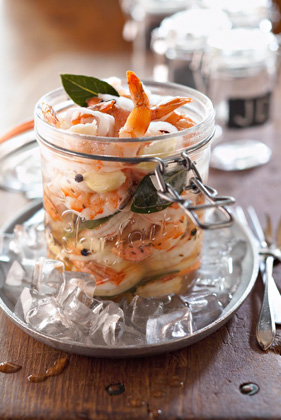 Featured in:
The Deen Bros. Y'all Come Eat
Difficulty: Easy
Prep time: 15 min
Cook time: 30-40 min
Servings: 6-8
Ingredients
Cooking Liquid
8 cups water
1 large (about 2/3 cup) celery stalk
1 large (about 2/3 cup) carrot
1 medium (½ cup) chopped onions
3 fresh parsley sprigs
3 fresh thyme sprigs
2 clove fresh garlic
5 peppercorns
2 bay leaf
1 teaspoon salt
Shrimp
2 pounds uncooked medium shrimp
½ cup cider vinegar
2 tablespoons freshly squeezed lemon juice
1 tablespoon sugar
2 teaspoons salt
1 teaspoon dill weed
1 large onion
12 whole peppercorns
6 bay leaves
6 clove fresh garlic
6 whole cloves
Directions
For the cooking liquid, in a large pot, combine all the cooking liquid ingredients; bring to a boil. Reduce the heat and simmer for 20-30 minutes. Strain, discarding the solids. Let the liquid cool in the pot.
For the shrimp, add the shrimp to the cooled cooking liquid. Heat over medium-high heat for 8 minutes. When ready drain, reserving the liquid.
In a large bowl, whisk together the cider vinegar, lemon juice, sugar, salt, and dill weeds. Add the shrimp and let stand for 15 minutes.
In each of six 8-ounce jars, layer the shrimp and onion slices; add 2 peppercorns, 1 bay leaf, 1 garlic clove, and 1 whole clove to each jar. Divide the vinegar mixture among the jars. Top off each jar with the reserved cooking liquid. Screw the lids on tightly and store in the refrigerator for up to 3 days. Discard bay leaves.