Garden Pasta Salad
By
Paula Deen
JUMP TO RECIPE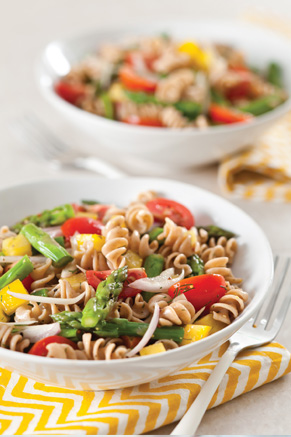 Difficulty: Easy
Prep time: 10 minutes
Cook time: 10 minutes
Servings: 10
Ingredients
1/4 cup sherry vinegar
2 tablespoons extra virgin olive oil
1 tablespoon whole grain mustard
1/4 teaspoon salt
1/4 teaspoon ground black pepper
1/4 teaspoon celery seed
1 trimmed bunch asparagus
1/4 cup water
1/2 (16 oz) package cooked according to package directions, drained, and rinsed whole wheat spiral-shaped pasta
1 pint quartered cherry tomatoes
1 cup chopped yellow bell pepper
1/4 cup thinly sliced shallot
1/4 cup thinly sliced shallots
1 tablespoon minced fresh dill
Directions
In a large bowl, whisk together vinegar and next 5 ingredients. Set aside.
In a shallow microwave-safe dish, combine asparagus and 1/4 cup water. Cover with plastic wrap and peel back one corner to vent steam. Microwave on HIGH for 3 minutes or until asparagus are tender. Drain well, and let cool. Cut asparagus into 1-inch pieces.
Add asparagus, pasta, tomatoes, and remaining 3 ingredients to vinegar mixture. Toss until coated. Cover and refrigerate for up to 2 days.