Fruit Punch
By
Paula Deen
JUMP TO RECIPE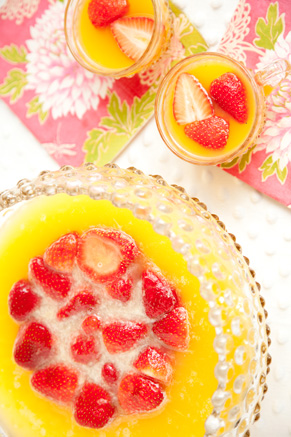 Difficulty: Easy
Prep time: 10 minutes
Cook time: 10 minutes
Servings: 10
Ingredients
2 pints hulled strawberries
3 cups sugar
1 (48 oz) can pineapple juice
2 (6 oz) cans thawed frozen lemonade concentrate
2 (6 oz) cans thawed frozen orange juice concentrate
1 liter bottle lemon-lime soda
3 cups water
Directions
Combine the orange juice, lemonade and pineapple juice and stir well.
Bring 3 cups water and sugar to a boil in a heavy sauce pan and boil until sugar is dissolved, about 5 minutes. Let cool. Add the syrup to the fruit juices.
Place the whole strawberries into a ring mold. Pour in enough fruit juice to fill the mold. Freeze. Refrigerate the remaining juice.
When ready to serve, pour the fruit juice into a punch bowl and add the lemon-lime soda. Float the strawberry ice ring in the punch.