Fried Ice Cream
By
Paula Deen
JUMP TO RECIPE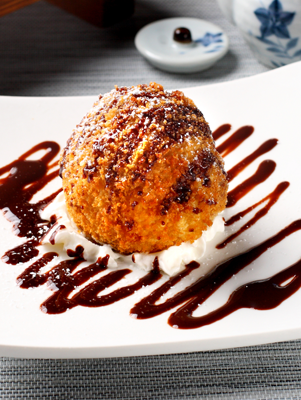 Difficulty: Medium
Prep time: 20 minutes
Cook time: 20 minutes
Servings: 20
Ingredients
1/2 to 1 gallon vanilla ice cream
4 egg whites
4 cups crushed square-shaped graham cereal
for frying vegetable oil
optional garnish cinnamon
optional garnish honey
optional garnish whipped cream
optional garnish chocolate sauce
Directions
Line a rimmed baking sheet with parchment paper or a silicone baking sheet. Scoop the ice cream into 2-inch balls and freeze on prepared baking sheet for a least 2 hours.
Lightly beat the egg whites in a medium bowl. Put the crushed cereal in a separate medium bowl. Dip a frozen ice cream ball into egg whites and then roll in the crushed cereal and return to the baking sheet. Repeat the procedure with the remaining ice cream balls, egg whites, and cereal. Put the baking sheet into the freezer and freeze for at least 2 hours or overnight.
*Cook's Note: For extra crispiness, dip the coated ice cream balls again into the egg whites, and reroll in the crushed cereal
In a large Dutch oven or fryer, pour vegetable oil to a depth of 4 inches and heat to 375 °F.
Fry the ice cream balls, in batches if necessary, until golden, about 1 minute. Remove from the oil and drain on paper towels. Transfer to a serving platter and serve immediately with optional garnishes, if desired.