Fried Ham Poppers
By
Paula Deen
JUMP TO RECIPE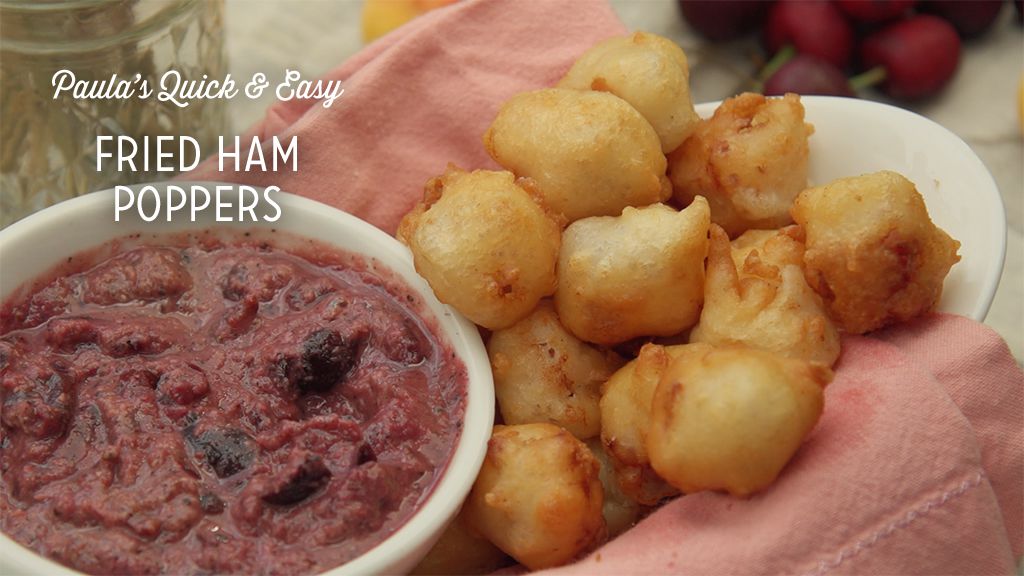 Difficulty: Easy
Prep time: 5 minutes
Cook time: 5 minutes
Servings: 5
Ingredients
1 quart for deep frying vegetable oil
1 (2 lb) (1-inch thick), cut into 1-inch cubes ham steak
1 1/2 cups all purpose flour
1 teaspoon baking powder
1 3/4 cups buttermilk
1 (12 oz) bag frozen cherries
1/2 cup + 2 tablespoons prepared horseradish
3 tablespoons dry mustard
1 tablespoon coarsely ground pepper
2 tablespoons honey
Directions
Preheat oven to 200 °F. In a large heavy pot, heat 1 1/2 inches of oil to 350 °F.
In a medium bowl, whisk the flour and baking powder together, then whisk in the buttermilk. Drop ham cubes into the batter. Lift out, letting any excess drip back into the bowl.
Fry ham in the hot oil until deep gold, about 1-2 minutes, making sure to turn while cooking so all sides fry evenly. Remove with a slotted spoon to a paper towel-lined baking sheet to drain. Repeat with the remaining ham cubes.
In a medium bowl, mix together cherries, horseradish, mustard, pepper and honey and stir well. Use a potato masher or your hands to break up cherries. Serve alongside the ham bites.