Fried Halibut Sandwiches
By
Deen Brothers
JUMP TO RECIPE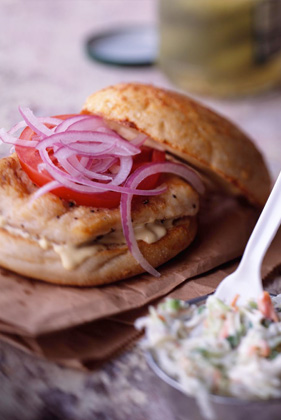 Featured in:
The Deen Bros. Recipes from the Road
Difficulty: Easy
Servings: 2
Ingredients
2 tablespoons mayonnaise
1 tablespoon Dijon mustard
1 tablespoon chopped fresh dill
2 8-ounce halibut fillets
2 tablespoons all-purpose flour
1/2 teaspoon salt
Freshly ground black pepper
1 tablespoon olive oil
2 kaiser
1 tomato
1 red onion
Directions
In a small bowl, whisk together the mayonnaise, mustard, and dill. Set aside.
Rinse fish and pat dry; set aside. In a shallow dish, stir together the flour, salt, and pepper to taste. Dip each fillet in the flour mixture to coat.
In a skillet, heat oil over medium-high heat. Cook the fish in the hot oil for 2 to 3 minutes per side or until golden.
Spread the dill mayonnaise evenly on the rolls. Place a fish fillet on each roll and top with tomato and onion slices.