Fried Green Tomatoes with Vidalia Onion Relish
By
Paula Deen
JUMP TO RECIPE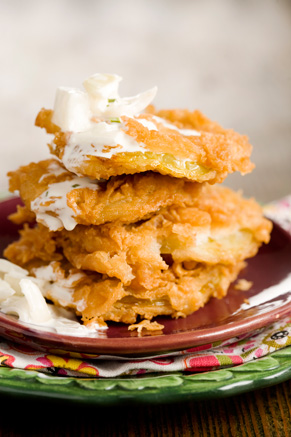 Difficulty: Easy
Prep time: 12 minutes
Cook time: 12 minutes
Servings: 12
Ingredients
3 or 4 large firm green tomatoes
2 cups or peanut oil, for deep-frying vegetable oil
1 cup buttermilk
2 cups self rising flour
2 diced white onions
1/2 cup mayonnaise
1/2 cup rice wine vinegar
2 tablespoons brown sugar
2 tablespoons chopped fresh chives
salt
Directions
Slice the tomatoes 1/4-inch thick. Lay them out in a shallow baking pan and sprinkle with salt. Place the tomato slices in a colander and allow time for salt to pull the water out of the tomatoes, approximately 30 minutes.
In a skillet, heat the oil for deep-frying over medium-high heat.
Dip the tomatoes into buttermilk, then dredge them into flour with a dash of pepper. Deep-fry until golden brown. Keep warm.
For the Vidalia Onion Relish:
Mix onions, mayonnaise, rice wine vinegar, brown sugar and chives together in a bowl. Cover with plastic wrap and let marinate for a few hours.