Fried Green Tomato Burgers
By
Paula Deen
JUMP TO RECIPE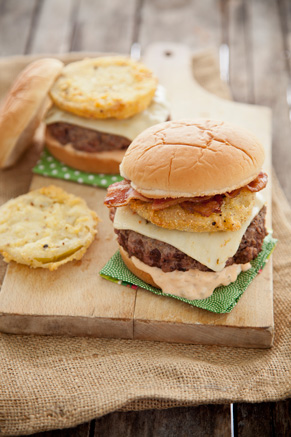 Difficulty: Easy
Ingredients
2 lb ground chuck
3 tablespoons Worcestershire sauce
1 1/2 teaspoons plus 2 teaspoons for tomoatoes Paula Deen House Seasoning
1 tablespoon for frying bacon renderings
1 large cut into 1/2-inch thick slices green tomato
1 cup buttermilk
1/4 cup self rising cornmeal
1 cup all purpose flour
4 slices monterey pepperjack cheese
8 slices cooked bacon
4 split and toasted onion rolls
thousand island dressing
for frying vegetable oil
salt
Directions
For the burgers: Preheat a grill to medium-high heat, about 350 degrees F. Spray a grill rack with nonstick, nonflammable cooking spray.
In a medium bowl, combine the ground chuck, Worcestershire sauce and 1 1/2 teaspoons House Seasoning, stirring to mix well. Form the mixture into 4 (4-inch) patties. Grill the burgers, covered with the grill lid, to desired degree of doneness, 5 to 6 minutes per side.
For the tomatoes: In a medium nonstick skillet, pour the oil to a depth of 1/4-inch, and the bacon renderings and melt over medium heat.
Sprinkle the tomatoes with salt. Soak in the buttermilk. In a small bowl, combine the cornmeal, flour and 2 teaspoons House Seasoning. Dip both sides of each tomato slice in the flour mixture. Add the tomatoes to the hot oil and cook until golden brown, 3 to 4 minutes per side.
To assemble the burgers: Place 1 cheese slice over each patty. Place 2 slices bacon on the bottom halves of each onion roll, top with the hamburger, a fried green tomato slice and the desired amount of Spicy Thousand Island Dressing. Cover with the onion roll tops. Serve immediately.