Fried Green Tomato Burger
By
Paula Deen
JUMP TO RECIPE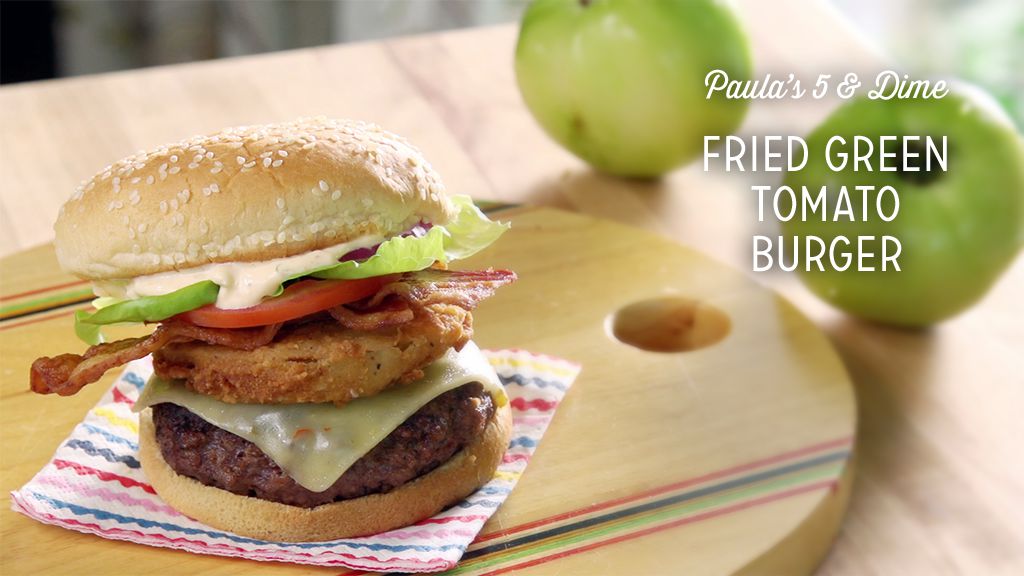 Difficulty: Easy
Prep time: 10 minutes
Cook time: 10 minutes
Servings: 10
Ingredients
for frying vegetable oil
1 large cut into 1/2 inch thick slices green tomato
to taste salt
3/4 cup buttermilk
1 cup self rising flour
1 1/2 lbs ground beef
1 stick (plus 4 tablespoons, softened) butter
to taste kosher salt
to taste black pepper
1/2 teaspoon Creole seasoning
4 deli slices pepper Jack cheese
4 split hamburger buns
8 slices cooked crisp bacon
for serving butter lettuce
sliced for serving red onion
sliced for serving tomato
1/2 cup mayonnaise
1 tablespoon chopped green onions
1 teaspoon Paula Deen Hot Sauce
Directions
In a medium nonstick skillet, add oil to a depth of 1/4-inch, and heat.
Place the tomatoes in a casserole dish. Season them generously with salt. Let sit while you make the burgers. In a small bowl, add the flour and season with salt and pepper.
Heat the grill to medium-high heat.
Combine the hamburger, salt, black pepper and butter in a large bowl. Form the beef into 4 patties. Place the burgers on the grill, cover and cook, turning once, until the burgers reach the doneness you like, 8-9 minutes for medium-rare. Top with cheese the last few minutes of grilling. Butter hamburger buns and toast on the grill.
While burgers are grilling, cover tomatoes with buttermilk. Turn to coat both sides, let excess drain off, then add to flour mixture and turn to coat on both sides. Carefully place the tomatoes into the hot oil, in batches, and cook until golden brown, 3 to 4 minutes per side. Drain on a paper towel-lined sheet tray.
For the bayou mayo: Combine the mayonnaise, green onions, hot sauce and Creole seasoning in a small bowl.
Sandwich the burgers in the buns and top with the bacon, fried green tomatoes, lettuce, onion, tomatoes and bayou mayo. Use a napkin to eat this bad boy!