Fried Collard Green Wontons
By
Paula Deen
JUMP TO RECIPE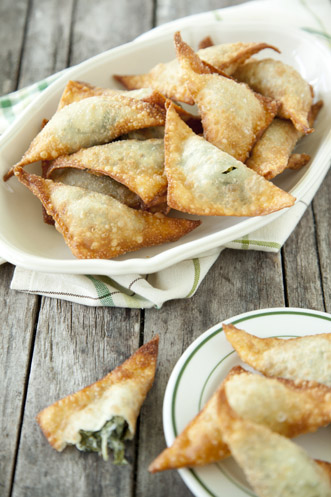 Difficulty: Medium
Prep time: 30 minutes
Cook time: 30 minutes
Servings: 30
Ingredients
4 tablespoons (1/2 stick) softened butter
1/2 large bunch collard greens
1 tablespoon Paula Deen Hot Sauce
1 teaspoon seasoned salt
1 teaspoon plus more for seasoning Paula Deen's House Seasoning
1 lb (or smoked turkey wings, or smoked neck bones) ham hocks
1 (8 oz) package softened cream cheese
70 approximately wonton wrappers
for drizzling olive oil
for frying peanut oil
Directions
In a large pot, bring 1 1/2 quarts water to a boil and add the meat, House Seasoning, seasoned salt, Hot Sauce and a drizzle of olive oil. Cover, reduce the heat to medium, and cook for 1 hour.
Meanwhile, wash the collards thoroughly. Remove the thick stem that runs down the center of the greens by holding the stalk in 1 hand and stripping the leaves from the stalk with your other hand. Stack 6 to 8 leaves on top of each other, roll up, and slice into 1/2 to 1-inch ribbons. Place the greens in the pot with the meat. Add the butter. Cook the greens, stirring occasionally, until the greens are tender, about 45 minutes to 1 hour. When they are done, taste and adjust seasoning.
Remove the collard greens with a slotted spoon and transfer to a large bowl. Remove ham hock and chop into pieces. Place into bowl with collard greens. Mix in the softened cream cheese, working it into the mixture.
Have a bowl of water ready and dip your finger in it, running it along the seams of the wonton before pressing to seal. Place a scant teaspoonful of the collard green mixture in the center of a wonton wrapper and fold into a triangle. Repeat with the remaining wrappers. Place on a parchment or waxed paper lined baking sheet, covered with a damp paper towel, until ready to fry.
Heat 3-inches peanut oil in a heavy deep pot to 350 °F.
Fry the wontons in batches until they are golden brown, about 3 to 4 minutes per batch. Place on paper towels to drain and allow to cool for 5 minutes before serving.