Fried Cherry Walnut Pies
By
Paula Deen
JUMP TO RECIPE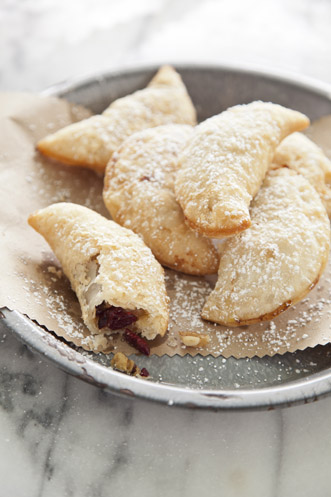 Difficulty: Easy
Ingredients
1 cup granulated sugar
for frying vegetable oil
2/3 cup light corn syrup
1/3 cup melted butter
2 large eggs
1 1/2 cups chopped walnuts
1 teaspoon vanilla extract
1/8 teaspoon salt
1/2 cup finely chopped dried cherries
2 premade pie crusts
1 beaten egg yolk
for dusting flour
for garnish confectioner's sugar
Directions
In a Dutch oven or deep fryer, pour the oil to a depth of 5 inches. Heat the oil over medium heat to 350 degrees F.
In a cold medium saucepan, combine the granulated sugar, corn syrup, melted butter, and eggs. Stir in the walnuts, vanilla, and salt. Bring to a boil over medium heat. Reduce the heat, and simmer for 10 minutes. Stir in the cherries. Cool for 20 minutes.
On a lightly floured surface, unroll 1 pie crust. Cut circles from the dough using a 4-inch cutter. Re-roll and cut circles from the dough scraps. Stack the dough circles between pieces of wax paper. Repeat the procedure with the remaining pie crusts.
Place 1 pie crust circle on a flat surface. Lightly brush the edges of the crust with beaten egg yolk. Place 1 heaping tablespoon of walnut mixture in the center of the circle. Fold the dough over the filling, pressing the edges to seal. Repeat with the remaining rounds and walnut mixture.
Fry the pies, in batches, until lightly browned, about 1 minute per side. Drain on paper towels. Lightly dust with confectioners' sugar, if desired.