Fried Asparagus with Creole Mustard Sauce
By
Paula Deen
JUMP TO RECIPE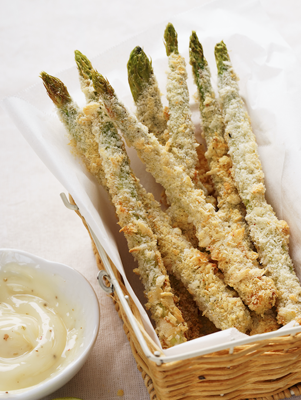 Difficulty: Easy
Prep time: 15 minutes
Cook time: 15 minutes
Servings: 15
Ingredients
1 lb fresh asparagus
1 cup all purpose flour
1 cup whole buttermilk
1 large egg
1 tablespoon plus 3 teaspoons for sauce hot sauce
1 1/2 cups self-rising cornmeal mix
1 tablespoon Cajun seasoning
for frying peanut oil
1/4 teaspoon Creole seasoning
1/4 teaspoon garlic powder
1/4 teaspoon onion powder
3 tablespoons Creole mustard
2 teaspoons dry ranch dressing mix
1 teaspoon lemon juice
2/3 cup sour cream
Directions
Snap off tough ends of asparagus. Rinse asparagus with water, and leave damp. Place flour in a resealable plastic bag; add asparagus, seal and shake to coat.
In a shallow dish, whisk together buttermilk, egg and 1 teaspoon hot sauce. In another shallow dish, combine cornmeal mix and Cajun seasoning. Dip asparagus in buttermilk mixture; dredge in cornmeal mixture.
In a large Dutch oven, pour oil to a depth of 2-inches. Heat oil over medium heat; about 360 °F.
Fry asparagus in batches for 4 to 5 minutes or until golden brown. Drain on paper towels. Serve with Creole Mustard Sauce.
Creole Mustard Sauce:
In a small bowl, combine Creole seasoning, garlic powder, onion powder, mustard, ranch dressing mix, lemon juice, 3 teaspoons hot sauce, sour cream and salt to taste. Cover and chill.
Yield: 1 cup