Fresh Tangerine Cake
By
Paula Deen
JUMP TO RECIPE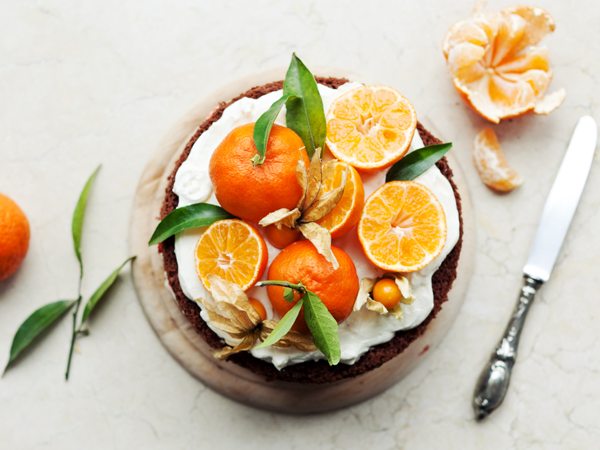 Difficulty: Easy
Prep time: 15 minutes
Cook time: 15 minutes
Servings: 15
Ingredients
2 1/2 cups all purpose flour
1 3/4 cups sugar
1 teaspoon baking powder
1 1/2 teaspoons baking soda
1/2 teaspoon salt
3 beaten eggs
1 cup vegetable oil
1 (8 oz) container sour cream
1 cup plus 3 tablespoons for icing tangerine juice
1 tablespoon tangerine zest
1/2 cup room temperature butter
1 (8 oz) package room temperature cream cheese
6 cups confectioner's sugar
1/2 zested, for icing tangerine
Directions
Preheat the oven to 350 °F.
Spray 2 (9-inch) circular cake pans with vegetable oil cooking spray.
In a large bowl add the flour, sugar, baking powder, baking soda and salt. Mix together with a spatula. Using a hand-held mixer, add the eggs, vegetable oil, sour cream, 1 cup tangerine juice and zest. Mix until well combined.
Divide the batter evenly into the pans. Bake for 25 minutes. Remove from the oven and let cool completely before icing. Ice the cakes, as desired, and serve.
Tangerine Icing:
Mix together the butter, cream cheese and confectioner's sugar together in a large bowl. Add 3 tablespoons tangerine juice and 1/2 tangerine's worth of zest and combine well.