Fresh Fruit Salad with Creamy Custard Sauce
By
Deen Brothers
JUMP TO RECIPE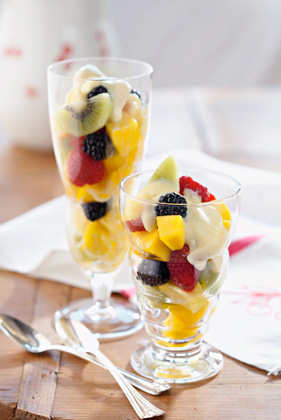 Featured in:
The Deen Bros. Y'all Come Eat
Difficulty: Easy
Servings: 4 to 6
Ingredients
1 1/2 cups whole milk
6 large egg yolks
2/3 cup sugar
1 tablespoon vanilla
2 tablespoons unsalted butter
6 cups mixed berries
Directions
For the custard, in a medium saucepan (preferably one with a lip for pouring), heat milk until steaming. In a medium bowl, whisk together the egg yolks and sugar until combined. Whisking constantly, slowly incorporate the hot milk into the egg mixture. Return the mixture to the saucepan.
Heat the custard over low heat about 5 minutes or until thickened slightly, stirring constantly. (It should be thick enough to coat the back of a spoon. Do not let the mixture come to a simmer or the eggs will curdle.)
Immediately strain the custard into a small bowl. Stir in the vanilla, then stir in the butter until melted. Serve fruit with the warm or chilled custard on the side, letting guests spoon the custard over the fruit as desired.