French Toast Casserole
By
Paula Deen
JUMP TO RECIPE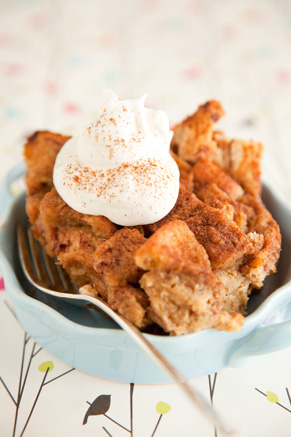 Difficulty: Easy
Prep time: 15 minutes
Cook time: 15 minutes
Servings: 15
Ingredients
1 1/2 loaves cut into 1" cubes cinnamon bread
8 oz cubed cream cheese
12 eggs
2 cups milk
2/3 cup syrup
1 teaspoon sugar
1 teaspoon cinnamon
Directions
Preheat oven to 375 °F.
Spray 13 x 9 casserole dish with nonstick spray. Put half of the cubed bread into the bottom of the prepared pan. Cover with the cream cheese.
In a small mixing bowl, mix together sugar and cinnamon. Sprinkle casserole with half of the sugar mixture. Cover remaining bread cubes.
In a large mixing bowl, whisk together eggs, milk and syrup. Pour mixture over bread. Sprinkle top with remaining sugar mixture. Cover and refrigerate over night. Bake for 40 to 45 minutes. If you shake pan and bread jiggles, bake a little longer. Serve hot with syrup.