Filet Mignon with Blackberries
By
Deen Brothers
JUMP TO RECIPE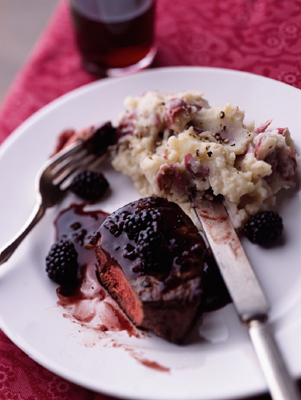 Featured in:
The Deen Bros. Recipes from the Road
Difficulty: Medium
Prep time: 5 minutes
Cook time: 30 minutes
Servings: 4
Ingredients
4 (6-ounce) filet mignon steaks (beef tenderloin)
salt
freshly ground black pepper
2 tablespoons olive oil
¼ cup finely chopped shallots
½ cup dry red wine, such as Cabernet Sauvignon
1 cup low-sodium beef broth
3 tablespoons blackberry preserves
2 tablespoons unsalted butter
fresh blackberries, for garnish
Directions
Pat the steaks dry with a paper towel and season generously with salt and pepper. In a heavy skillet, heat the oil over medium-high heat until almost smoking. Sear the steaks in the hot oil for 3 minutes per side for medium rare. Transfer steaks to a serving plate, tent with foil, and let stand.
Using the same skillet, sauté the shallots for 1 minute. Add the red wine, scraping up any browned bits on the bottom of the pan. Let wine boil until reduced by half. Add broth and blackberry preserves; return to a boil and reduce by half. (The sauce should coat the back of a spoon.) Whisk in the butter. Season sauce with additional salt and pepper to taste.
To serve, drizzle the sauce over the steaks and scatter a few blackberries on the plate.