Fettuccine Chicken Salad
By
Paula Deen
JUMP TO RECIPE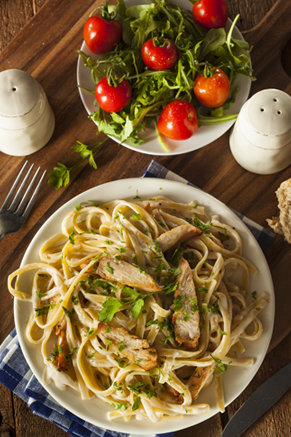 Difficulty: Easy
Prep time: 10 minutes
Cook time: 10 minutes
Servings: 10
Ingredients
1/4 cup chopped fresh basil
1/4 cup chopped fresh parsley
1/2 cup tops green onion
2 cups mayonnaise
2 (9 oz) packages fresh fettuccine
3 tablespoona olive oil
2 tablespoona chopped fresh thyme
1 teaspoon Paula Deen's Seasoned Salt
4 large boneless skinless chicken breast halves
2 teaspoons Paula Deen's House Seasoning
for garnish cherry tomatoes
Directions
Preheat oven to 350 °F.
Slice the chicken breasts lengthwise into 1-inch wide strips. Place chicken on a baking sheet, sprinkle it with 1 teaspoon of House Seasoning and all of the thyme, and then drizzle it with olive oil. Bake for 15-20 minutes, or until cooked through but still juicy; do not overcook. While the chicken is cooking, cook the pasta according to package directions. Drain the pasta, rinse it in cold water, and drain it again. Pat the excess moisture off the pasta with a paper towel if necessary, and put the pasta in a large bowl for tossing.
Remove the chicken from the baking sheet and set aside. Pour the juices from the baking sheet into a medium bowl. To the bowl, add the mayonnaise, green onions, parsley, basil, the remaining teaspoon of House Seasoning, and the seasoning salt, and stir until well blended. Pour the dressing over the pasta and toss gently. Place the chicken strips on top of the pasta. Garnish with tomato wedges and additional sliced green onions. This dish can be made 1 day before serving.