Eggnog Custard Pie
By
Paula Deen
JUMP TO RECIPE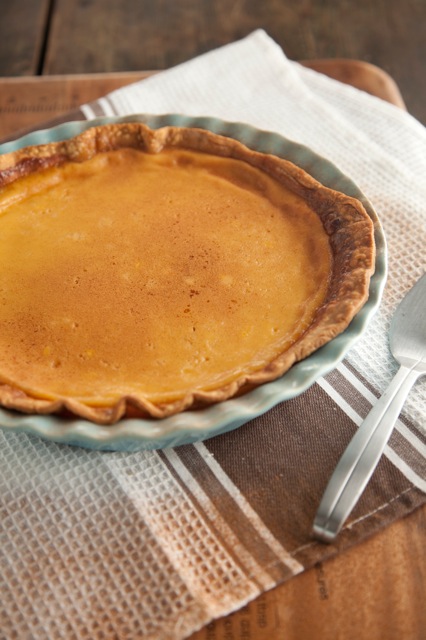 Difficulty: Medium
Prep time: 15 minutes
Cook time: 55 minutes
Servings: 8
Ingredients
1/2 (15-oz) package refrigerated pie crust
1 cup sugar
4 large eggs
1 (12-oz) can evaporated milk
3/4 cup water
1/4 cup light rum
1/8 teaspoon salt
1/2 teaspoon ground nutmeg
1/4 teaspoon ground cinnamon
whipped cream, for garnish
powdered sugar, for garnish
Directions
Preheat oven to 350 °F.
On a lightly floured surface, unroll pie crust. Roll pastry into a 12-inch circle. Press pie crust into a 9-inch deep dish pie plate, crimping edges, if desired. Lightly poke holes into the bottom of the dough once it's fitted firmly in the plate.
In a large bowl, beat sugar and eggs at medium speed with an electric mixer until well combined. Add evaporated milk, water, rum and salt. Beat at low speed until combined. Pour mixture into crust. Sprinkle top of pie with nutmeg and cinnamon. Place pie onto a rimmed baking sheet with a depth of 1/2-inch. Add hot water to baking sheet.
Bake for about 55 minutes, or until a wooden pick inserted near center comes out clean.
Cut into desired sizes and garnish with whipped cream and powdered sugar.