Egg and Cheese Bagel Sandwiches
By
Paula Deen
JUMP TO RECIPE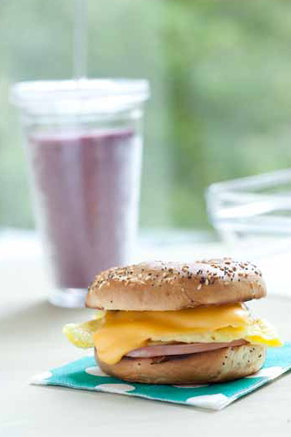 Difficulty: Easy
Prep time: 10 minutes
Cook time: 24 minutes
Servings: 4
Ingredients
4 teaspoons butter, divided
8 large eggs, divided
1/4 cup milk, divided
4 everything bagels, halved
4 slices Canadian bacon
4 slices American cheese
Directions
In a small skillet, heat 1 teaspoon butter over medium heat until melted and foamy. In a small bowl, whisk together 2 eggs and 1 tablespoon milk. Pour egg mixture into pan, and cook for 30 seconds. Using a spatula, gently lift edges and tilt pan so uncooked portion flows underneath. Cook for 5 minutes longer or until center is set. Fold egg mixture into quarters; remove from pan, and keep warm.
Repeat process with remaining butter, eggs, and milk.
Meanwhile, toast bagel halves, and keep warm. Microwave Canadian bacon on HIGH for 25 seconds or until hot. On bottom half of toasted bagels, layer Canadian bacon, eggs, cheese and bagel top. Serve immediately.